Description
We are Roundforest. Our mission is to simplify shopping. We're a bootstrapped B2C product company in the e-commerce world that has grown to 40M visitors per month & millions in annual revenue.
We're looking for an experienced front end developer who can help us develop technology and products that simplify the shopping experience for consumers. This is a unique opportunity to be part of an organization that has the resources and scale of an established company and the energy, impact, and team size of an early-stage startup.
In this role you will
Work as a frontend developer in an empowered product team that integrates product, design, and engineering, where everybody has a chance to affect the product.
Develop products that have tens of millions of users and where each change has real impact.
Work closely with competent engineers in teams that value professionalism in all its aspects: clean code, code reviews, tests, CI, frequent deploys, and monitoring in production.
Be part of a development environment that, for once in your life, works professionally.
Requirements
3+ years of experience in frontend development
Passionate about building great products with beautiful UX in a professional environment.
Meet the manager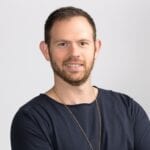 Yonatan Loewidt
CTO
"Harmonic teamwork is art. It's beautiful. I see it as my role to facilitate the harmony within the team."