Description
Who We Are:
The Roundforest story is likely one you haven't heard before. Founded in 2014, we're a bootstrapped B2C product company that has grown to 40M visitors per month & millions of annual revenue.
Our main focus now is launching the next generation of shopping recommendation experiences for the consumer. Each new challenge requires different skill sets, and we're forming a core team of creative innovators to lead us there.
This is a unique opportunity to be part of an organization that has the resources & scale of an established company and the energy, impact & team-size of an early-stage startup.
Our journey is only 1% done.
Senior Growth Manager's Mission:
Build world-class organic growth activity.
This position reports to Yonatan Loewidt, CTO.
At Roundforest, each team member has autonomy when it comes to deciding how to achieve the mission at hand. You'll be a great fit for the Head of Organic Growth role if you're excited about the following:
Starting a brand new activity from scratch.
Building cross functional growth teams.
Developing and executing a strategies that allows consumers to find our offering via organic channels.
Forming out strategic partnership with significant players in the ecosystem.
Requirements
Minimum Requirements:
4+ years of product management/digital marketing experience in a b2c company.
1+ years of people management.
Enthusiastic about Roundforest's consumer-focused mission and culture of creative-impact empowerment.
We offer great salaries, generous stock plans, & loads of extra perks including a high monthly Cibus allowance, stocked kitchen, personal development budget, & tons of fun gatherings happening all the time at our Tel Aviv HQ.
Are you getting goosebumps reading about this role at Roundforest? We would love to hear from you - so send us your CV and we promise to be in touch soon! Bonus points for tracking down your potential future manager and telling him/her how excited you are.
Keywords:
#Growth, #HiringNow , #GetHired , #Hiring , #startupjobs
#roundforest , #shoppingmadeeasy , #lifeatroundforest , #startupnation
To learn more about Roundforest's spirit click - https://www.roundforest.com/join-the-team/
Meet the manager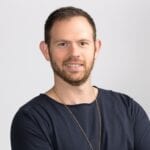 Yonatan Loewidt
CTO
"Harmonic teamwork is art. It's beautiful. I see it as my role to facilitate the harmony within the team."