Description
Who We Are:
The Roundforest story is likely one you haven't heard before. Founded in 2014, we're a bootstrapped B2C product company that has grown to 40M visitors per month & millions in annual revenue.
Our main focus now is launching the next generation of shopping recommendation experiences for the consumer. Each new challenge requires different skill sets, and we're creating a core team of creative innovators to lead us there.
This is a unique opportunity to be part of an organization that has the resources and scale of an established company and the energy, impact & team-size of an early-stage startup.
Our journey is only 1% done.
Operation Manager's Mission:
Creating a productive work environment and a warm and inviting atmosphere that allows our people to feel at home.
This position reports to Ziv Noy, VP Finance.
At Roundforest, each team member has autonomy when it comes to deciding how to achieve the mission at hand. You'll be a great fit for the Operation Manager role if you're excited about and excellent at the following:
Office operation. Full responsibility for all office and employee needs, maintenance, and appearance, ordering equipment and refreshments, negotiating with suppliers, dealing with municipal and government institutions, welcoming the company's guests, and more.
Finance administration. Providing support to the company's Finance team, including preparing the monthly package, handling invoices, payments, employee salaries, preparation of financial reports, collating and filing expenses, and budget management.
HR Operation. Planning and executing welfare activities, supporting the recruitment process, onboarding and offboarding of team members.
Social Media management. Work closely with the head of product/marketing to lead fun social media experiments and engagement.
Assistance to the CEO. Organizing meetings and appointments for the CEO, booking and arranging travel, transportation and accommodation, preparing reports and presentations and miscellaneous tasks to support the CEO and assist him to manage his time efficiently.
Requirements
Minimum Requirements and Skills:
People person. Strong interpersonal skills, sociable, charismatic, the ability to form personal relationships.
Execution skills. Proactive and has the ability to get things done.
Unique organizational skills. Have exceptional time management skills, strong attention to detail, and is able to prioritize.
Experience in a similar position at a Hi-Tech company is a plus
Always looking for ways to make things better, creative and thinking outside of the box.
Exude positive energy and assertiveness.
Possess excellent written and verbal communication skills.
High level of Hebrew and English - a must!
Diverse Perspectives:
We know that innovation thrives on teams where diverse points of view come together to solve hard problems. As such, we explicitly seek people that bring diverse life experiences, diverse educational backgrounds, diverse cultures, and diverse work experiences. We'd love to hear how your perspective will bring something unique and valuable to our team.
We offer great salaries, generous stock plans, & loads of extra perks including a high monthly Cibus allowance, stocked kitchen, personal development budget, & tons of fun gatherings happening all the time at our Tel Aviv HQ.
We would love to hear from you - so send us your CV and we promise to be in touch soon! Bonus points for tracking down your potential future manager and telling him/her how excited you are.
Keywords:
#Operations #Officemanager #Operationsmanager #Officeadmin
#HiringNow , #GetHired , #Hiring , #startupjobs
#roundforest , #shoppingSimplified, #lifeatroundforest , #startupnation
To learn more about Roundforest's spirit click - https://www.roundforest.com/join-the-team/
Meet the manager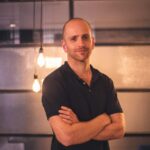 Ziv Noy
VP Finance
"I strive to establish relationships founded on transparency and open communication. I truly believe that these are essential for a successful partnership and collaboration."