Description
Who We Are:
The Roundforest story is likely one you haven't heard before. Founded in 2014, we're a bootstrapped B2C product company that has grown to 40M visitors per month & millions of annual revenue.
Our main focus now is launching the next generation of shopping recommendation experiences for the consumer. Each new challenge requires different skill sets, and we're forming a core team of creative innovators to lead us there.
This is a unique opportunity to be part of an organization that has the resources & scale of an established company and the energy, impact & team-size of an early-stage startup.
Our journey is only 1% done.
VP Marketing's Mission:
Craft a compelling & holistic product narrative and execute on a go-to-market strategy.
This position reports to Alon Gamzu, CEO.
At Roundforest, each team member has autonomy when it comes to deciding how to achieve the mission at hand. You'll be a great fit for the VP Marketing role if you're excited about the following:
Developing product positioning, value proposition, messaging, competitive differentiation, and go-to-market strategies. Real passion for crafting a compelling story that drives people to action.
Serve as the consumer's voice in the product journey, collaborating with product teams to remove roadblocks, enhance messaging and increase engagement.
Help to increase products' retention by promoting a customer lifecycle vision.
Developing partnership and B2B marketing materials and messaging, to establish thought leadership, brand awareness, and SEO value.
Community building and social presence strategy.
Problem-solving in a fast-paced, self-driven environment.
Constantly using data to evaluate success and drive strategy, performance, and optimization.
Eagerness to roll up your sleeves to get things done – including the unglamorous tasks.
Requirements
Minimum Requirements:
Bachelor's degree and 5+ years relevant marketing experience, preferably in consumer product marketing targeting the US, with quantifiable revenue responsibility.
2+ years experience as a member of a company's Senior Leadership Forum.
2+ years experience as a people's manager.
Mother tongue English speaker with an idiomatic level of US English.
Enthusiastic about Roundforest's consumer-focused mission and culture of creative-impact empowerment.
Diverse Perspectives-
We know that innovation thrives on teams where diverse points of view come together to solve hard problems. As such, we explicitly seek people that bring diverse life experiences, diverse educational backgrounds, diverse cultures, and diverse work experiences. Please be prepared to share with us how your perspective will bring something unique and valuable to our team.
We offer great salaries, generous stock plans, & loads of extra perks including a high monthly Cibus allowance, stocked kitchen, personal development budget, & tons of fun gatherings happening all the time at our Tel Aviv HQ.
Are you getting goosebumps reading about this role at Roundforest? We would love to hear from you – so send us your CV and we promise to be in touch soon! Bonus points for tracking down your potential future manager and telling him/her how excited you are.
Keywords:
#marketing, #productmarketing, #storytelling, #branding, #communication, #pr, #b2c
#HiringNow , #GetHired , #Hiring , #startupjobs
#roundforest , #shoppingSimplified, #lifeatroundforest , #startupnation
Meet the manager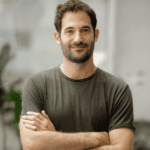 Alon Gamzu
CEO
"My purpose at work is to get better and help the people around me get better."