Description
At Roundforest, we believe that in order to achieve our mission to drive value to consumers, we must form strong and collaborative relationships with other players in the eCommerce space. We also believe that successful relationships are built based on transparency, trust and value creation.
We are looking for a creative and visionary Biz-Dev leader who's truly passionate about business strategy, coalition forming and value creation and will be excited about this unique opportunity to take the reins of an already established network of business relationships and execute a strategy to grow it even further.
This is a leadership role, reporting directly to the CEO and a member of Roundforest's leadership team.
Tips for a successful VP Partnership interview at Roundforest: we are going to discuss the eCommerce landscape, major trends and positioning strategies. Get ready!
Meet the manager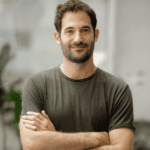 Alon Gamzu
CEO
"My purpose at work is to get better and help the people around me get better."