Description
We are building a company culture that puts people first and emphasizes transparency, empowerment, and trust over processes and control. A place where delighted team members is the goal rather than a means to an end.
We are looking for a creative and visionary HR leader who's truly passionate about culture building and people development and will be excited about the opportunity to join Roundforest's leadership team, work closely with our managers and build a HR team that promotes and nurtures our culture and people.
Currently, our team size is 35 people, and we plan to reach 100 people by the end of 2022. There is so much we want to build and so much value to deliver to our users, that we need more hands on deck to make it happen. The VP People reports directly to Roundforest's CEO.
Tips for a successful VP People interview at Roundforest: Prepare examples of organizations' cultures that have inspired you and be prepared to chat about Roundforest's culture vision and optional strategies for achieving it.
Meet the manager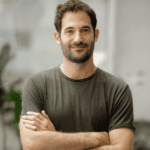 Alon Gamzu
CEO
"My purpose at work is to get better and help the people around me get better."